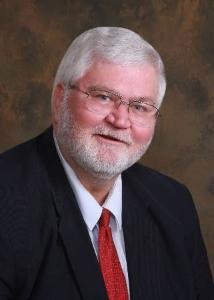 Pictured to the left: Ken Crain, Attorney at Law. My goal is to get the best possible results for each and every one of my clients through high quality, ethical, and personalized legal representation at a reasonable cost to each client. You get the benefit of over 38 years of legal experience when you hire me to help you with your legal problem.

NOW ACCEPTING NEW CLIENTS.

I will give you and your legal problem the personal attention you want and deserve. I will also work to achieve the best possible results for you as quickly as possible at a reasonable cost. Please feel free to call me at 512-630-3745 if you have any legal questions about divorce, child custody, child support, child visitation, criminal problems, traffic tickets, or toll road payment problems in central Texas.

I can also help you draft a Last Will and Testament and I can help you probate an estate for someone who has recently passed away with or without a Last Will and Testament. I can help you draft a durable power of attorney and/or a medical power of attorney. If you are looking for an attorney to help you with your legal problems in Williamson County or anywhere else in central Texas, call me to see if I can help you.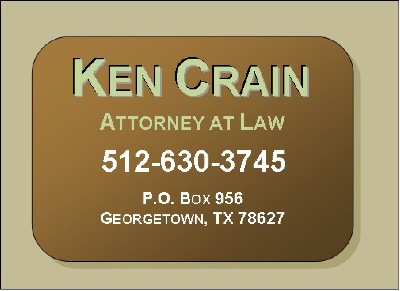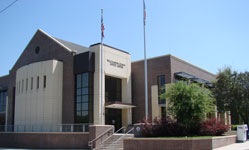 Pictured to the left: The Williamson County Justice Center at 405 Martin Luther King Street in Georgetown, Texas. The legal system can be complex. It can be bewildering and quite frustrating to people who do not deal with it regularly. I am a very experienced attorney who has practiced law continuously in Williamson County since January 1985. I began work in Georgetown in January 1985 as a misdemeanor criminal prosecutor in Williamson County.

My family and I have lived in Georgetown in Williamson County continuously since 1985. I started my own private law practice in Georgetown in June 1986. I have been practicing law continuously in my own law practice in Georgetown since June 1986.

I always listen to the goals and priorities of my clients. I strive to provide all of my clients with clear information about the law and give them frank and honest opinions about their cases. I believe in keeping my clients informed about the status of their cases, whether the news is good or not so good. I will explain how the law applies to the specific facts of your case so that you can make a fully informed decision about how to proceed with your case.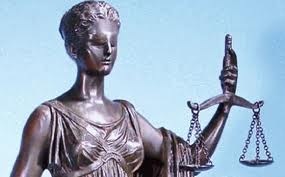 My law practice includes family law (divorce, child custody, child support, child visitation, etc.) and criminal defense problems (whether you are charged with a felony, a misdemeanor, or a traffic ticket). I can also assist in preparing or amending a Last Will and Testament to make sure that your property goes to the beneficiaries of your own choosing instead of beneficiaries selected by the State of Texas. I can also help to probate an estate if you have a friend or loved one who has passed away recently (with or without a Last Will and Testament). I can also help you draft a durable power of attorney and/or a medical power of attorney.

My legal fees will be fully explained to you in your initial consultation on the telephone or in my office. Payment plans are available for many of the types of legal problems handled by my office. Payment for legal fees can be made by cash, personal check, cashier's check, money order, or by debit card/credit card.

I hope you will explore this website to learn more about the legal services provided by my office. Please feel free to call me at 512-630-3745 if you have any legal questions or if you are looking for an attorney to help you with your legal problems in Williamson County or anywhere else in central Texas.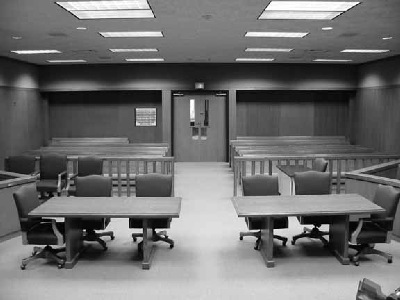 Pictured above: One of many courtrooms in the Williamson County Justice Center in Georgetown. A courtroom can be a very lonely and intimidating place if you do not have an experienced attorney by your side.

Sometimes people mistakenly believe they can simply show up in court and competently handle their own misdemeanor criminal case or handle their own divorce or other legal problem without hiring an attorney. I have seen lots of problems over the years with people downloading some divorce forms from the internet. Not all forms are created equal. Not all forms address all of the issues that are relevant to your situation.

Many people do not realize in advance that it is not the judge's job to give you legal advice, to explain the law or the rules of evidence or legal procedure to you or to help you intelligently present your case to the judge or to a jury.

If you do not understand courtroom procedure and the rules of evidence, you run the risk of really harming your case. For example, if you do not understand all the topics that should be covered in a divorce decree, you will almost certainly mess it up if you try to draft your own divorce decree or if you try to use a form that you found on the internet or somewhere else.

As an example, I have seen many divorce decrees that did not include a geographical restriction that required the custodial parent to live in a certain location after the divorce. Do you really mean to give your former spouse the right to live anywhere in the country or anywhere on the planet with your children? How often will you get to see your children if your former spouse and the children suddenly move from Williamson County to Utah or to Florida or to Switzerland?

You can almost certainly put a geographical restriction in the divorce decree even if the custodial parent would rather not have one, but you have to know that in advance and insist upon it before the decree gets signed by the judge. If you do not get the geographical restriction verbiage added before the final decree gets signed, it will be difficult to get a judge to add a geographic restriction later.

An experienced attorney can explain the legal system to you and let you know what to expect and when to expect it, thus reducing your natural anxieties about the legal process.


Ken Crain's Background: (The primary purpose of this website is to help you find answers to your legal problems. Since most people want to know something about an attorney before they hire him/her, I am providing some information about me and my background in this web page.) I grew up in San Antonio in a large family. I was number six of eight children, with four brothers and three sisters. My parents were married for 49 years before my mother passed away in 1994. My father passed away in 1999.

Ken's father served 23 years in the U.S. Army from 1938-1961. His father was a World War II veteran (European theater) who also served in Germany for four years (1949-1953) as part of the allied occupation forces after the war. Ken's father also spent a year in South Korea in 1955-56, shortly after the Korean War. Although Ken was an "Army brat," his parents lived off post in San Antonio exclusively after Ken was born at Fort Sam Houston. He did not get to do much traveling until he joined the U.S. Navy in July 1972 when he was 17 years old.

Ken's father retired from the U.S. Army in 1961 as a warrant officer (W-2). Ken's maternal grandfather, Ernest DeBell, served thirty years in the U.S. Army after emigrating from Germany in 1882. Ernest DeBell was a veteran of the Spanish American War in 1898. He was also a World War I veteran. He retired as a sergeant and he is buried at Fort Sam Houston National Cemetery in San Antonio.

All six of Ken's uncles (five on his father's side and one on his mother's side of the family) were military veterans who served during and/or after World War II. Three of Ken's four brothers were also military veterans. One of Ken's brothers served in the navy and two brothers served in the U.S. Air Force. Two of Ken's sisters are married to military veterans. Growing up in San Antonio, Ken spent a lot of time at Fort Sam Houston even though the family lived off post in San Antonio after Ken was born.

Ken spent twelve years in the public school system while growing up in San Antonio. He graduated from Sam Houston High School on the east side of San Antonio in 1972. Just six weeks after he finished high school, Ken joined the navy and started a four year college degree and officer commissioning program at the U.S. Naval Academy. He graduated from the U.S. Naval Academy in Annapolis, Maryland, in June 1976, with a B.S. in Marine Engineering.

He received a commission as an Ensign in the U.S. Navy on graduation day in 1976 at the naval academy. He served on active duty in the U.S. Navy from 1976 until 1981 as a surface warfare officer. He also served in the U.S. Navy Reserves from 1981 to 1987 in Austin, Texas. Ken left the navy as a lieutenant commander.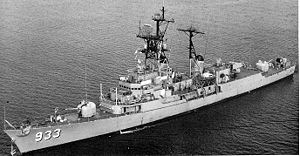 Pictured to the left: The destroyer USS Barry (DD-933). While on active duty in the U.S. Navy, Ken served as the damage control assistant (basically, the repair officer) on the destroyer USS Barry (DD-933) homeported in Mayport, Florida, near Jacksonville.

Ken qualified as a Surface Warfare Officer while on the Barry. (This is roughly the equivalent to a submariner earning his dolphins or an aviator earning his wings.) The destroyer USS Barry (DD-933) later became a museum ship at the Washington, D.C. Navy Yard until it was scrapped in 2017.

Pictured to the right: The nuclear powered cruiser USS California (CGN-36) After leaving the destroyer Barry, Ken next served as the missile officer on the nuclear powered cruiser USS California (CGN-36) homeported in Norfolk, Virginia. The California was equipped with Tartar surface to air missiles. Harpoon surface to surface missiles were installed while Ken was the missile officer.

While on active duty in the U.S. Navy, Ken made several deployments to the North Atlantic, the Mediterranean, the Persian Gulf, and the Indian Ocean and visited dozens of foreign ports. He made three trips to the Indian Ocean in 1979, 1980, and 1981. His first trip to the Indian Ocean and the Persian Gulf was in the summer of 1979 on the destroyer Barry, a few months after the Shah of Iran had been ousted by the Islamic Revolution in Iran. The Barry went through the Suez Canal on its way to and from the Middle East. The Barry spent a lot of time patrolling the Strait of Hormuz during the summer of 1979 to ensure safe passage for oil tankers and other ships entering and leaving the Persian Gulf.

Ken's second trip to the Indian Ocean was in the Spring of 1980 on the cruiser California. The California and the USS Texas (CGN-39) were two nuclear powered cruisers providing protection and support to the nuclear powered aircraft carrier USS Nimitz in the northern Arabian Sea. Ken became the missile officer on the California in early March 1980. In April 1980, eight helicopters were launched from the deck of the USS Nimitz (CVN-68) as part of an ill-fated attempt to rescue 52 American hostages in Tehran. Ken made a third trip to the Indian Ocean in the Spring and Summer of 1981 on the California.

After leaving the active duty navy in the summer of 1981, Ken entered law school at the University of Texas Law School in Austin in August 1981 and graduated in May 1984. He took the Texas Bar Exam in July 1984 and passed the bar exam on his first attempt. He has been licensed to practice law in Texas since November 1984. He has been practicing law in Williamson County, Texas, since January 1985, when he was hired by Billy Ray Stubblefield, the Williamson County Attorney at the time (and later a district judge in Williamson County), to be a misdemeanor criminal prosecutor.


Ken has spent his entire legal career in Williamson County. He was an Assistant County Attorney in Georgetown from January 1985 to June 1986. As an Assistant County Attorney, he prosecuted hundreds and hundreds of misdemeanor criminal cases, including Driving While Intoxicated (DWI), theft, theft by check, shoplifting cases, assaults, assault with family violence, driving while license suspended, public intoxication, reckless driving, traffic tickets, weapons offenses, possession of marijuana, possession of drug paraphernalia, minor in possession of alcohol, probation revocations, and many other kinds of misdemeanor cases.

Ken is a member of the Williamson County Bar Association, the Williamson County Criminal Defense Lawyers Association, the Bell County Bar Association, the Texas Criminal Defense Lawyers Association, and the State Bar of Texas. He is also a member of the Family Law Section of the State Bar of Texas. He is also a life member of the U.S. Naval Academy Alumni Association and a member of the Austin chapter of the USNA Alumni Association.

Ken and his wife, Micki, met when they were sophomores at Sam Houston High School in San Antonio. They started dating shortly before high school graduation. They were married in 1976, just ten days after Ken became a brand new Ensign in the United States Navy. Micki has a business degree from Southwest Texas State University (now Texas State University) in San Marcos. Micki has worked for the Lutheran church organization and the Lone Star Girl Scout Council in the past.

Ken and Micki have one daughter, Dr. Allyn Crain, D.C., who is a successful chiropractor in Salado, Texas. Ken and Micki have resided in Georgetown since July 1985. Due to explosive growth over the past 30+ years, Georgetown and Williamson County have seen many, many changes since Ken and Micki moved here in 1985.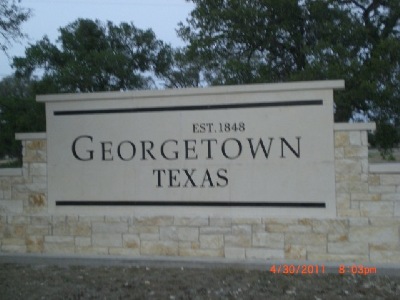 In his spare time, Ken enjoys spending time with his family and friends. One of Ken's favorite activities currently is taking one of the family dogs for a daily walk in the neighborhood.

Ken has been a regular blood donor and has donated over 20 gallons (eight pints to the gallon) of whole blood and red blood cells over the past 30 years. (Does anyone know if they really need to get a special signed release from a recipient before they put "lawyer blood" into their body in a blood transfusion???) Ken encourages everyone to donate blood regularly if they are eligible to do so.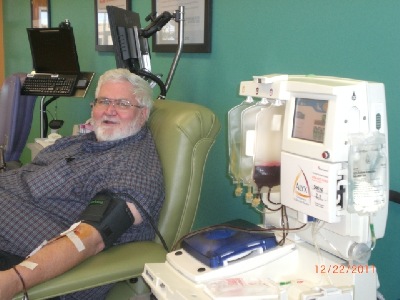 Pictured to the left: Ken donating red blood cells a few years ago at the Blood and Tissue Center of Central Texas in Wolf Ranch Shopping Center in Georgetown.

Ken also encourages everyone to consider being an organ donor and to tell their friends and family how they feel about organ donation to make organ donation decisions easier during the very difficult situations when organ donation decisions must be made. It is not enough to say you want to be an organ donor on your driver's license or somewhere else. You need to have the organ donation conversation with your loved ones NOW so that they will know how you feel about organ donation. That will make it much easier for them to agree to an organ donation later that will help someone else greatly.

If you are opposed to organ donation for some reason, think about how you would feel if someone you cared about needed a liver, kidney, lung, heart, cornea or some other vital organ in order to save his/her life or to dramatically improve his/her quality of life. If you are opposed to donating an organ at the end of your life, thinking about how an organ donation could really improve someone else's life should change the way you feel and help you do the right thing and support organ donations for yourself and for your loved ones.

Discounts for Legal Fees. Ken offers many of his services on a flat rate basis so that clients will know ahead of time what their legal fees will be. For those services that are billed at an hourly rate, Ken offers a ten percent discount off his normal $300 hourly rate for legal fees to:

1. all U.S. military veterans, active duty U.S. military, retired military, National Guard, and military reserve personnel,

2. clients who are 55 years and older,

3. anyone who is employed by Williamson County, Bell County, Travis County, Burnet County, Milam County, or any city government or school district within the aforementioned counties,

4. full time high school, college, and graduate students,

5. faculty, employees, and staff at Southwestern University, the University of Texas, Texas State University, University of Mary Hardin-Baylor, Temple College, Texas A&M University, Austin Community College, St. Edward's University, Central Texas College, and Huston Tillotson College,

6. Dell Computer Corporation employees.

If you are a spouse or legal dependent of someone who is eligible for a discount, then you are eligible also. Only one ten percent discount can be used at a time by a client per legal problem. Please mention your status when you first contact me to claim this ten percent discount off my normal $300 hourly rate for legal fees. The ten percent discount does not apply to any legal work that I normally quote on a flat fee basis such as uncontested divorces, occupational driver's licenses, expunctions, motions for non-disclosures, traffic tickets, toll road payment problems, etc.