NOW ACCEPTING NEW CLIENTS.

It is easy to get in touch with our law office!!!!

Our mailing address is: PO Box 956, Georgetown, Texas 78627-0956

Due to frequent long lines at the local Georgetown post office, please do not send us any certified mail or any other mail that requires a signature without checking with us in advance. First class mail is almost always the preferred way to send mail to us.

If you are mailing me something important and you want to know as soon as it is received, then please enclose a note requesting an email confirmation of receipt or a phone call confirming receipt of whatever you sent me.

Voice: 512-630-3745

Fax: 512-692-1904

My Usual Office Hours:

Monday thru Friday: 9 a.m. to 6 p.m.

I am also usually available by telephone after normal office hours (as well as on Saturdays and Sundays and on many holidays) for emergencies and other matters that cannot wait until the next business day. Call me at 512-630-3745 and leave a voice message for me if I do not answer the phone.

All calls to the office are forwarded to my cell phone when I am not in the office. I will return the phone call as soon as possible.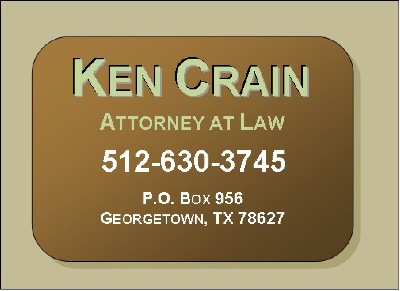 I offer free telephone consultations (lasting up to a few minutes) for your legal problems. My fee for an office consultation is only $250 for an office consultation lasting up to one hour. If you want to visit with me in person at my office, it is highly recommended that you call me in advance to schedule an appointment. Evening and weekend appointments are available with prior arrangements.