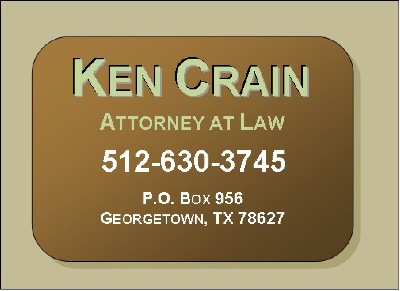 Are you currently charged with committing a crime in Williamson County or somewhere else in Texas? Whether you have a traffic ticket or a more serious criminal case, you need an experienced criminal defense attorney to help you and guide you through the legal system.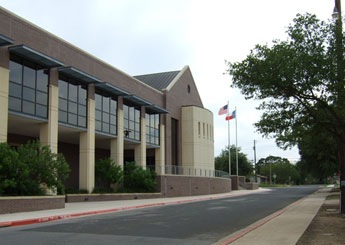 Pictured at left: The Williamson County Justice Center at 405 Martin Luther King in Georgetown. I have over 37 years of experience dealing with Texas misdemeanor and felony cases. I handle criminal defense cases in Williamson County and surrounding counties and other Texas counties. I have been licensed to practice law in Texas since 1984, and I have been in private practice in Georgetown in Williamson County continuously since 1986. I was a misdemeanor criminal prosecutor in Williamson County in 1985 and 1986. I graduated from the University of Texas Law School in Austin in 1984 and graduated with an engineering degree from the U.S. Naval Academy in Annapolis, Maryland, in 1976. I am a U.S. Navy veteran.

No attorney can absolutely guarantee a particular result for a criminal case but I have been working in the system long enough to be able to give you a real good idea of what your chances are of winning a contested jury trial and what kind of punishment you are probably facing for your pending criminal charges, based on the facts of the case and your background and your criminal history.

I will work hard for you, be available by email and by telephone when you have questions about your case, be honest with you about the progress of your case, and try to get the best possible result for you as soon as possible.

The overwhelming majority of criminal law cases settle before a contested trial, so why pay for a jury trial when you may not need one to get an acceptable resolution of your case? I offer free telephone consultations and reasonable rates for my legal services.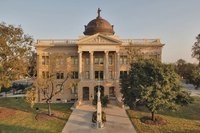 Pictured at right: The Williamson County Courthouse on the square in downtown Georgetown.

For a limited time, I am accepting new misdemeanor criminal cases that are pending in Williamson County (in County Court at Law Number One, Two, Three or Five) for a cash discounted reduced rate of $1,999. I am not able to offer a payment plan at this discounted rate. This fee includes a negotiated plea or possible reduction of the charge to a lesser charge or a possible dismissal. Jury trials and/or trials by judge are not included at this discounted rate. Motions to Suppress Evidence Hearings and other pretrial hearing matters are not included in this fee. This fee includes up to two court appearances in court in Georgetown. If more than two court appearances are needed, additional court appearances will cost $600 per court appearance. I can accept payment by cash, check, money order, cashier's check, and most major credit cards. If you need an occupational driver's license (if a driver's license suspension is part of the criminal case I am representing you in), I can assist you with that for an additional $999 in legal fees plus approximately $350 for the court filing fees for the occupational driver's license.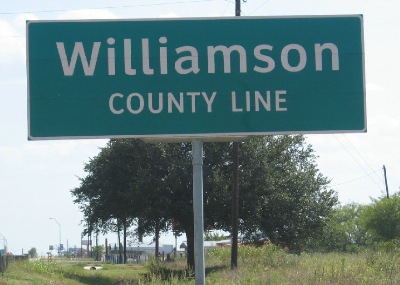 Pictured at right: A sign telling you that you are entering Williamson County, Texas. Williamson County has a well deserved reputation in Texas for being tough on crime. Williamson County is widely known as being one of the toughest counties in the State of Texas in which to be charged with a crime. If you are charged with a traffic ticket or a more serious misdemeanor or felony crime in Williamson County, you should hire an attorney who is familiar with the local "tough on crime" policies and who practices law here on a regular basis.

For a limited time, I am accepting new state jail felony, third degree felony, and second degree felony cases that are pending in Williamson County for a cash discounted reduced rate of $2,499. See the above paragraph re misdemeanor pricing for additional restrictions that also apply to this felony rate. If you have a pending first degree felony charge against you, please call me to discuss what my fee would be to represent you.

If you are not able to come up with a lump sum payment to pay up front for my services, I may be able to offer you a payment plan for payment of legal fees, depending upon the type of legal problem you have. I handle cases in Williamson County as well as in surrounding counties and other Texas counties. I have handled criminal law cases of many types over the years. I can represent you on any criminal case pending in a Texas state court, whether it is a misdemeanor or a felony charge. I also handle traffic ticket cases in local courts in central Texas.

I can help you obtain an occupational driver's license if you need one. I would be happy to discuss your legal problem with you over the phone. I am usually available by phone between 8 a.m. and 8 p.m. seven days a week. If you do not reach me on the telephone, leave a message and I will return your call promptly. I am here to help you if I possibly can. You can also email me if you prefer by going to the "Contact Us" page of this website.